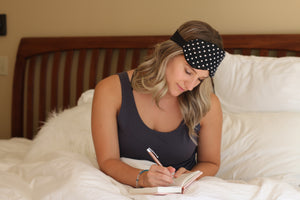 1. Hey there, sleep enthusiasts! Have trouble falling asleep at night? Struggle with racing thoughts and bedtime anxiety? Well, I've got just the solution for you: journaling before bed! That's right, grabbing a pen and paper and jotting down your thoughts and feelings can work wonders for your sleep. And to make your nighttime routine even more magical, why not try pairing your journaling session with a SleepSwag Sleep Mask? Trust me, these two go hand in hand for a good night's rest. So keep reading to discover the power of journaling before bed and why you need a SleepSwag Sleep...
---
• aromatherapy • made in the USA • silk sleep mask • sleep tips
 Now, if you weren't already aware, March is designated as National Sleep Awareness Month (also important to note it's Women's History Month). So… you already know SleepSwag had to come out with a new blog! Sometime this month, I want you—yes, you! Our wonderful reader(s)!—to really reflect on your sleep habits this month. Sit down, pop the journal out, and write about how much sleep you're getting. Consider the quality of rest, how you generally feel emotionally and physically after sleeping, and the environment you're resting in (i.e. light, temperature, noise, etc). More often than not, when people reflect...
---
I've long been fascinated with the properties of essential oils and their uses for mental, physical, spiritual healing and stimulation. My kids tend to tease me a little—don't worry, I've been around long enough to throw that shade back—about my fascination with essential oils, and I'm aware of the stigma some folks might have regarding medicine that might not typically be included within the scope of modern medicine. But, I'd like to think that the Western medical world is, finally, taking some cues from long-established (I'm talking like 700 BCE) non-Western medical practices that come from Africa, Asia, North America,...
---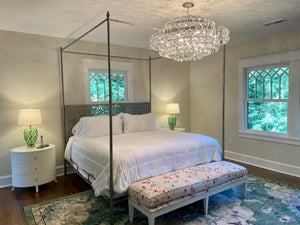 Recently, my partner and I just moved into our newly renovated home. When the contractor initially told us that our new house would be move-in-ready in about 3 months from when we bought it, you could imagine just how excited we are to finally move in—18 months later. If you've been following this blog for a while you're probably well acquainted with the fact that I love everything about sleep and sleep products (and if you weren't before, you are now!). So, during those dreadfully long 18 months of construction I could only dream of how incredible it would feel...
---
I'll level with you: every month around this time I sit down in front of my computer, stare at the ceiling, pray that a new blog topic will fall out of the sky and hit me upside the head. And of course, to nobody's surprise, nothing falls out of the sky. Instead, I end up curled up on the side of my bed, sleep mask on, napping my workday away. The perks and perils of being your own boss, I guess. Except this week, when, in the midst of avoiding this blog by taking a nap, I was woken up...